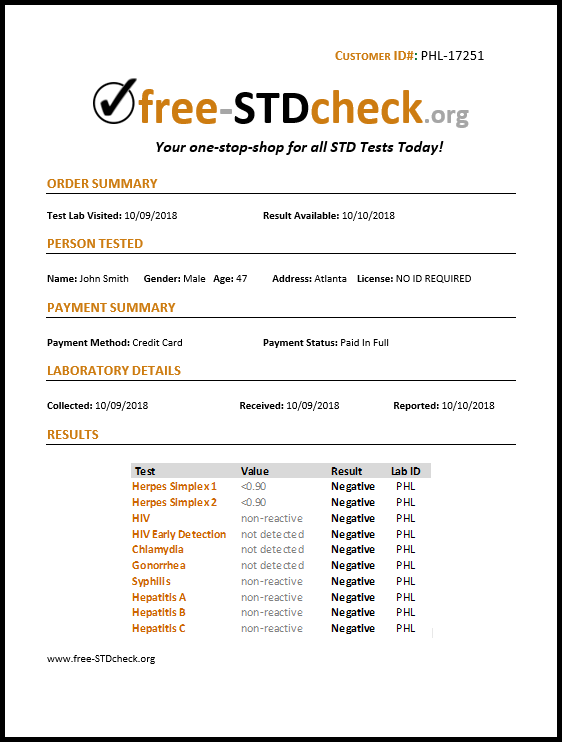 Confidential STD Testing
Since we do not accept insurance, your results will not be reported to your insurance company and therefore they cannot placed your private results on your permanent medical records. The Sample Report shown is for illustration purposes only. The actual lab results will come directly from our lab providers and may vary in appearance from the sample shown here. We are available to walk clients through and explain their lab results should they have any questions.
Free Medical Practitioner Consultation
We have Registered Nurses and Doctors available to speak with you (at no cost to you) if your test results come back positive. Our Registered Medical Practitioners will help provide you with information and resources to help you.
Once you place your order, you can visit any one of our 4,600 testing centers. Your results are delivered to you and nothing is reported to your insurance company or placed on your medical records. This eliminates the embarrassment and hassle of standard STD testing. We also give you the same FDA Approved test given by hospitals and doctors. 
Go to any of our 4,600 Testing Locations nationwide anytime and get your test done in minutes. With this many choices, no matter where you are in the U.S., you can be sure that one of our convenient labs is always nearby. Take charge of your life today get tested and learn your status and give yourself peace of mind.
Select which test(s) you want, checkout and take your confirmation number to any lab to get your blood drawn. Afterward, we contact you via email or phone call (discreetly) and give you your results. It's that easy!
The process typically takes less than 5 minutes and results are available within 1-2 days. We will email or call you so you know your results right away so you won't worry. Turnaround times for tests can vary.  While most results are available within 24-48 hours of the lab receiving the specimen some tests can take longer if reflex testing is required.  We cannot guarantee results same day.
Our all-in-one 10 Test Panel test allows you to get tested for the most common STDs in just one sitting! This makes this unique test one of the most comprehensive STD tests available anywhere in the U.S. We are the only company that offers the only FDA Approved HIV RNA test and we also include the Hepatitis A test, which no one else does.
Get Tested. Get Peace of Mind.
With over 4600 testing centers available, you will not have to travel far to get tested. Also, we have hours of operation from sun up to sun down including even some locations that are open on Saturday.
Our test prices are among the lowest in the industry and significantly lower than what most people pay at a hospital or clinic. Also, all tests we offer are FDA Approved and all of our testing locations are  CLIA Certified (Clinical Laboratory Improvement Amendments). 
Ready to find out more?
Call us today at 1-800-495-7178 for a free consultation today! If you are ready to get started, just click the button below!
Courtney worried day and night about whether or not she had recently contracted and was suffering from an STD. Luckily, she found free-STDcheck.org and was able to discreetly, quickly and easily, get tested and find out that she was clear of STDs giving her peace of mind. 
Michael decided that although he wasn't showing any symptoms, it would be better to make sure just in case. Free-STDcheck.org made it simple to get tested. Luckily, Bill was able to find out that he had Hepatitis C, which typically does not show any symptoms and as a result, he was able to get treatment right away and is now living a healthy life.
Testimonials
Using free-STDcheck.org was a great experience! It was Private, quick, and easy and I Highly recommend them. I went to the testing clinic that was about 10 minutes from my home and I was there for a total of about 5 minutes. I had my results back within 24 hours.
I called to discuss my results with a representative and I was very pleased with his knowledge and concern for my results. I plan to use this service twice a year.
The peace of mind this service creates is totally worth it and the 10 test panel is for sure the way to go.
- Elizabeth M.
I would recommend this site to anyone. The entire process was so easy; you pay for whatever test you want, and then go to a lab and you're out in about 5-10 min. I received my results in less than 2 days with total privacy and confidentiality which is a major plus. 
- Mark R.
We are the #1 STD testing service provider in the Unites States. We are dedicated to helping people and pointing them in the right direction.
Address: 4500+ Lab Facilities nationwide
Phone: 1-800-495-7178
Email: [email protected]
Our service is designed to give our customers control over their sexual health and peace of mind. With this goal in mind, we provide safe, easy, fast, quality and confidential STD testing and we do it at the lowest prices around. Many doctors offices and hospitals regularly charge in excess of 50%-300% what we charge.
Go to any of our 4,500 Testing Locations nationwide anytime and get your test done in minutes.
Contact Us (Call 1-800-495-7178)